Why use digital signage and digital displays? Who uses them?
The technology is used mostly in company workplaces; transportation hubs: airports, train stations, etc.; shopping centers; hotels, bars and restaurants, and throughout educational systems. The technology is very useful where content and ideas are displayed using a variety of visual and data connections.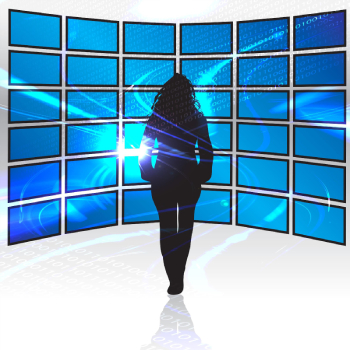 Digital Signage is used for three main reasons:
It is impactful. People want interactions with organizations that are personable and meaningful amidst the sea of constant intrusions from all types of media. Digital signage provides the ability to actually interest and engage people with your content.
It is memorable. People are most likely to stop to view a screen that offers a choice to look at whatever content the viewer is most interested in. This is not available with traditional signs.
It is engaging. Retailers know that interactive digital signage advertisements increases a shopper's decision to buy. 70 percent of marketers found that interactive content is more effective in converting shoppers.
Audio Visual Solutions for Company Workplaces
Digital displays and integrated AV technology is a key tool for many organizations. In many instances the conference room is the hub serving as a collaborative center for developing ideas and products. Organizations integrate digital displays with audio, video and control systems to create a winning technology environment that can showcase company plans and sell to new customers.
In other cases, a large company auditorium is the centerpiece for digital technology involving audio-visual solutions. This may include other integrated components like conferencing tools, broadcast services and remote pan-and-tilt cameras.
Transportation centers, shopping centers, and other public locations
Digital displays with integrated AV technology is used primarily to inform the public about time sensitive information such as departures, arrivals, directions to key locations, product information, and special pricing. Since it is software driven, the displays and audio messaging can be changed easily and as frequently as needed.
Audio-Visual Solutions for the Hospitality Industry
Digital signage in the hospitality vertical takes is very different. Its presentations are more varied changing frequently. Hospitality includes much more outdoor signage, revolving restaurant menus, ceiling-hung digital displays, family-friendly entertainment monitors and more. The integrated system may even include connected devices and displays in guest rooms to promote local tourism and restaurants.
Digital signage can create an immersive and welcoming experience for hotel guests, adding visual appeal, shiny aesthetics and more. Digital Signage Today offers a downloadable white paper for more tips on how hotels can effectively use digital signage.
Audio-Visual Solutions for Schools, Colleges, and Universities
More classrooms at all levels of education are getting connected through local and wide-area networks and Internet access using video, voice and data systems. Digital signage, interactive whiteboards and other audio visual technology enable teachers to have a broader capability to use technology in the classroom. This includes computer labs, auditoriums with video projections systems, and cafeteria monitors for menus.